---
by Doug Wolter
The folks at Culture Making Blog have put together (above) a beautiful diagram of biblical cross-references:
This diagram arose from a collaboration between a Carnegie-Mellon Ph.D student and a Lutheran pastor to create a grand map of Biblical cross-references: "We wanted something that honored and revealed the complexity of the data at every level –- as one leans in, smaller details should become visible. This ultimately led us to the multi-colored arc diagram… The bar graph that runs along the bottom represents all of the chapters in the Bible. Books alternate in color between white and light gray. The length of each bar denotes the number of verses in the chapter. Each of the 63,779 cross references found in the Bible is depicted by a single arc – the color corresponds to the distance between the two chapters, creating a rainbow-like effect.
---
by Doug Wolter
Check out this video and be amazed at God's creation (even though you're annoyed at these swarming cicadas reaching near biblical proportions)!
 Emie, on the other hand, seems to love these bugs!  Although, she hasn't eaten one yet (supposedly they taste like shrimp).  Below is is an interesting map showing where these little guys are emerging.
---
by Doug Wolter
Al Mohler reports that "Pittsburgh is becoming a parable of population loss for the rest of the nation … the collapse of birthrates is a sign of huge social and moral transformations."
My wife and I went to Pittsburgh last weekend to visit some good friends.  Jaime spoke at a Women's Retreat and I preached on Sunday.  I had never been to Pittsburgh before.  It was quite different than I expected.  I was expecting a dirty city with lots of steel buildings, but the city was really beautiful with the many hills and three rivers coming together.
Read Mohler's previous post on Japan's population crisis and my brother Mark's reaction as a missionary in Japan
---
by Doug Wolter
With all the current "fuss" in the Southern Baptist Convention about Calvinism, my pastor Tony Rose, and well-known Baptist historian and scholar, Dr. Tom Nettles, are teaching a six week series at my church on Calvinism in Southern Baptist Life.   We are currently half way through the series.  I encourage you to listen as they walk through T.U.L.I.P.
---
---
by Doug Wolter
During a recent episode of American Idol, Simon Cowell turned to his fellow judges and said, "You know what's amazing about this country is that you're genuinely happy when someone you know does well…. The idea of me knowing somebody, they get good news and celebrating with them — I couldn't do it."
Simon, without knowing it, has hit on something rather profound.  Deep down, there is something inside each one of us (except for Simon apparently!) that longs to share in the happiness of others.  There is a natural inclination to feel what others are feeling–to be happy for those who are happy, and sad for those who are sad.  Where does that come from? 
Ironically, Martin Luther King Jr. once said,
In every human being, black or white, there exists, however dimly, a certain natural identification with every other human being, so that we tend to feel that what happens to a fellow human being also in some way happens to us. (Quote taken from Marshall Frady's book, Martin Luther King Jr. — A Life., pg. 39)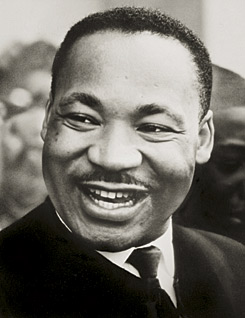 Could it be that this natural identification with our fellow human beings points to what we were made for in the beginning?  Could it be that this natural desire to share in one another's happiness (however dimly it may seem) is a pointer to what we all long for and what God promises to his children in the end?
We see indications of this desire in God's heart all throughout the Scriptures.  Indeed, God's design for the church is to be a diverse people who rejoice with those who rejoice and weep with those who weep.  A people who share their lives with one another in deep awareness of one another's needs.  And finally, an ethnically diverse people who worship forever in eternal happiness around the throne of the One who was slain for the sins of the world.
Even Martin Luther King Jr. understood that the fight for compassion and justice was a fight that ultimately pointed to a biblical ending.  On one occasion, he told his congregation,
The end is reconciliation, the end is redemption, the end is the creation of a Beloved Community. (Quote taken from Marshall Frady's book, Martin Luther King Jr. — A Life., pg. 39)
For King it was not just a racial reconciliation, but an ultimate reconciliation of all people.  A reconciliation of all human beings, regardless of color.  A reconciliation of ethnic diversity and harmony.  A reconciliation and creation of a beloved community crying out to King Jesus for all eternity.
So, the question for us today is simply this:  Are we working toward reconciliation?  Are we giving others a picture of the beloved community that's coming in the new creation?  If so, maybe Simon Cowell, and other skeptics like him, will take notice and perhaps bow the knee to King Jesus.
---
by Doug Wolter
Here is an Acts 29 link to three MP3′s that cover the history and the good/bad/ugly of the Emergent Church movement.
(HT: JD)
---
by Doug Wolter
Check out this post by Al Mohler as he reminds us, "while others celebrate "Turkey Day" and ponder poultry, direct your thoughts to the God of Heaven, by whose hand we have been brought near and given more than we can even remember."
Happy Thanksgiving everyone!  Get away from your computer (me included) and spend some good time with your family, friends, and neighbors.  We'll see ya next week!
---
by Doug Wolter
This is hiliarious, and yet reminds us of how important the Reformation really was.  Enjoy!  And don't be surprised to find yourself humming the chorus the rest of the day. 
---